SURF BOARDS – STAND UP PADDLE BOARDS – BODY BOARDS – WETSUITS
"My daughter and I have rented stand up paddle boards several times from Matt and Paul and they have been consistently kind, friendly, knowledgeable and affordable!  They are right by the beach and honestly, just straight up good people!" -Betsy C., Sunnyvalle, CA
If you are looking for things to do in Santa Cruz come visit us at Capitola Beach!
Capitola Beach Company has been assiting tourists and locals in Capitola Beach since 2004. We are your source for SURF, SUP and beach rentals in Capitola and Santa Cruz. Whether you like to call it Stand Up Paddle Boarding, Paddleboarding or SUP, we have the perfect equipment for all ages and abilities.
RATES: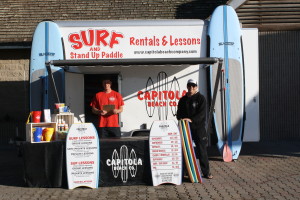 STAND UP PADDLE BOARDS…….$20 hr / $60 day
SURF BOARDS……………………..$12 hr / $30 day
BODY BOARDS…………………….$6 hr / $15 day
WETSUITS…………………………..$8 hr / $20 day
BEACH CHAIRS…………………….$4 hr / $10 day
BEACH UMBRELLAS………………$4 hr / $10 day
LOCATION: 
Our surf equipment rentals are located at the South end of Capitola Beach in Esplanade Park. You will see our "SURF & STAND UP PADDLE" trailer near the patio of the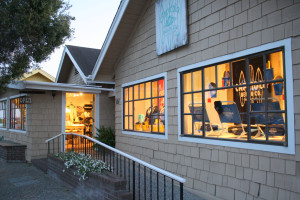 Britannia Arms Restaurant.
RENTAL HOURS: 
DAILY 10am-6pm
SHOP: 
131 Monterey Ave., Capitola Village
Rentals & Lessons Phone # (831) 462-5222
REQUIREMENTS:
You must be 18 years old or have a parent/guardian present to sign rental form.  Cash & credit cards accepted for the rentals, a valid ID & credit card are required for the security deposit.