FREQUENTLY ASKED QUESTIONS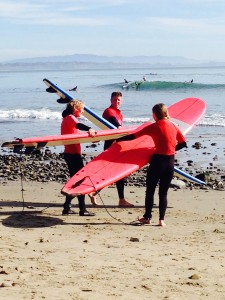 If you are looking for fun things to do in Santa Cruz, come learn to surf or come out stand up paddle boarding with us. Capitola Beach is one of the best spots to for surf lessons in Santa Cruz. Read below to learn what to expect in one of our Capitola surf lessons.
QUESTION: I've never taken a surf lesson or surfed before. Can I still come for a lesson?
ANSWER: Absolutely! We specialize in teaching all levels and offer beginner lessons for first timers to ongoing coaching for the experienced surfer. Of the places to surf in Santa Cruz, Capitola Beach is a great beginner spot.
QUESTION: When do you offer surf lessons?
ANSWER: We offer surf and stand up paddle boarding lesson daily at Capitola Beach. All of our surf lesson times are scheduled around the low tide. You can view our daily lesson times on the online calendar to the right and then call our shop at 831-462-5222 or send us an online lesson request.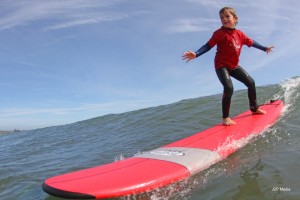 QUESTION: Is there a minimum or maximum age for students?
ANSWER: For private surf lessons the minimum age is 5 years old, and there is no upper age limit. For group lessons the minimum age is 12 year old, and there is no upper age limit.
QUESTION: I'm not a good swimmer, can I still learn to surf?
ANSWER: Yes you can, but you should be able to tread water.
QUESTION: What do I need to bring for my Capitola surf lessons?
ANSWER: You will need gear for a normal beach day- your bathing suit, towel, sunscreen, and a drink to stay hydrated. A surfboard and wetsuit are provided for all lessons.
QUESTION: What happens if it rains when we're surfing?
ANSWER: We love surfing in the rain! It's safe as long as there's no lightning and, let's face it- you're already wet. If the conditions do not permit, we will reschedule your Capitola surf lesson.
QUESTION: What if the Santa Cruz surfing conditions are unsafe?
ANSWER: If surf conditions are unsafe (ex: strong rip currents, strong winds, high surf advisory) you will be notified via phone call as soon as possible.
QUESTION: Can I cancel my lesson if something comes up?
ANSWER: We do not offer refunds. We are happy to reschedule your lesson if we are given at least 24 hours notice. Within 24 hours of your scheduled lesson date the reservation will become non-transferrable.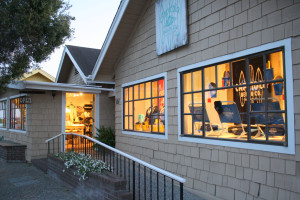 QUESTION: Where can I purchase gift certificates and Capitola Beach Company apparel?
ANSWER: We offer gift certificates in our Capitola Beach retail store. You can find our Capitola Beach Company apparel in our store and in our Online Store.