MATT ARTHUR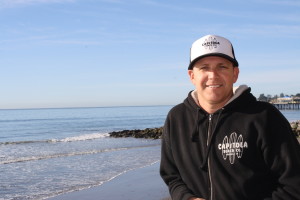 Matt was born and raised in Capitola and has been an active waterman since he could walk. He started surfing Capitola waves at age nine and competitive surfing at age 11. As an amateur surfer, Matt competed and won many distinguished competitions and accolades in and around California. While his surfing has taken him to many exotic surf spots such as Fiji, Samoa, Hawaii, and Mexico, Capitola is home. With over 34 years of experience surfing Santa Cruz waves, you will not find another person with more knowledge of the many different types of surfing Santa Cruz offers surfers of all levels.
As a fun thing to do when the waves were flat, Matt started paddle boarding Santa Cruz's popular spots starting in 2006. With Matt's years of surfing, stand up paddle boarding and his experience as a California State and City Lifeguard, you can feel safe, secure, and comfortable knowing you are in excellent hands when it comes to water safety.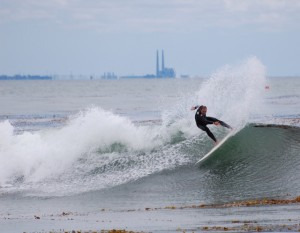 Matt's Favorites:
Favorite Surf Spot: Capitola Beach & Pleasure Point (Santa Cruz, CA)
Favorite Wave Surfed: Cloud Break & Restaurants (Tavarua, Fiji)
Favorite Surf Trip: Rio Nexpa (Mainland Mexico)
Favorite Surfboard: 6'0" Channel Island Motorboat & 6'1" Channel Island Flyer
Favorite Surfer: Tom Carroll (ASP World Champ 1983 & 1984)
"Matt always being attentive, enthusiastic, positive,  and clearly I can see his love of surfing." -Joseph W. – Menlo Park, CA

BOOK NOW
MATT DANIEL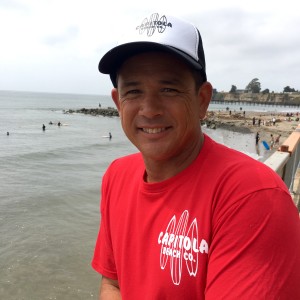 Born in Santa Cruz, Matt was deeply influenced by his grandmother, a long distance ocean swimmer who got him into his first waves in Capitola when he was a young child. He has been in the water ever since, and can't remember a time when the ocean wasn't a major part of his life. This passion for surfing has taken him around the globe in search of challenging waves including multiple trips to Mexico, Central and South America, Indonesia, Europe, and Hawaii.
A graduate of UCSC, and a former business owner, Matt's most rewarding days have been spent sharing his knowledge and respect of the ocean with visitors and locals alike. He has over five years experience teaching surfing and stand up paddling, and has lead groups from Stanford University, Google, Boy Scouts and countless other local and Bay area organizations.
Matt lives in Soquel with his wife and two children, who are also avid wave riders. His son James, at age nine, is currently ranked 1st in the National Scholastic Surfing Association Northwest division, and his daughter Gracie, at age five, is a fired up mini grom who loves to ride waves on her boogie board. Matt looks forward to surfing with you soon!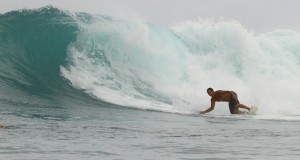 Matt's Favorites:
Favorite Surf Spot: Pleasure Point (Santa Cruz)
Favorite wave surfed: Puerto Escondido (Mexico)
Favorite Surf Trip: Lakey Peak (Sumatra, Indonesia)
Favorite Surfboard: Custom 5'6" hand shaped by Pat Taylor of Santa Cruz
Favorite Surfer: Tom Curren (three time world champion)
"Had a blast!!!! It was my first time. Matt was knowledgeable and a fantastic instructor felt comfortable and really enjoyed my experience." – Jessica L., Ligonier, PA

BOOK NOW
NEIL SPRENKEL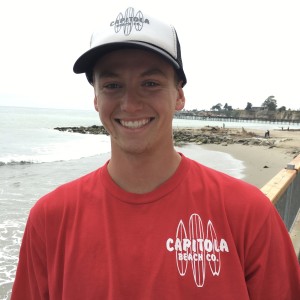 Neil was born and raised in Capitola. The moment Neil was allowed to explore on his own he found that surfing and being in the ocean is where he was most comfortable. Neil honed his surfing skills in the waters around Capitola and Santa Cruz. Surfing up and down the west coast of California and Mexico has provided Neil with a wide range of surfing knowledge and experience. This experience and knowledge is something that Neil is passionate about sharing. Neil's awareness of other surfers and etiquette in the surfing line up has earned him the respect from his peers. To Neil, etiquette, respect, and knowledge of the ocean are the keys to becoming a well rounded surfer. Neil is anxious to share his passion for surfing.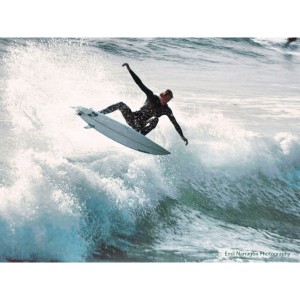 Neil's Favorites:
Favorite Surf Spot: Capitola & Wilder Ranch
Favorite Wave Surfed: Conejo & Lower Trestles
Favorite Surf Trip: Salina Cruz, Oaxaca, Mexico
Favorite Board: 5'11 Super Model by Super Brand
Favorite Surfers: Matt Banting & Jordy Smith
Other Interests: Snowboards, skating, basketball, baseball football, & cooking
BOOK NOW
LUCAS PORTER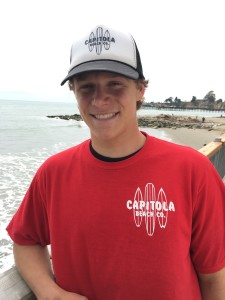 Lucas was born and raised in Santa Cruz, California. He grew up in a family of swimmers, so as a kid he spent most of his time in the water. Lucas took part in the Capitola Junior Guards program from age 6-17. He rode his first wave here in Capitola at the age of 12. Lucas currently is a student at Cabrillo College and loves to spend his free time in the playing in the ocean with friends. Whether he's riding his short board, longboard or even bodysurfing the shore break, you can always find him where the waves are. Having grown up in Santa Cruz Lucas has always felt the ocean has been a second home to him and helped him become the respectful person he is today. Lucas is anxious to share his enthusiasm for the ocean with his students.
Lucas's Favorites:
Favorite Surf Spot: Twenty Six & Pleasure Point (Santa Cruz, CA)
Favorite Wave Surfed: Salt Creek & Paunch Reef
Favorite Surf Trip: Puerto Viejo, Costa Rica & Bocas Del Toro, Panama
Favorite Surfers: Mason Ho & John John Florene
Other Interests: Skating, Snowboarding, Hiking & Cliff Jumping
BOOK NOW